| | |
| --- | --- |
| | A library outranks any other one thing a community can do to benefit its people. It is a never failing spring in the desert. --Andrew Carnegie |
The Pay-It-Forward Little Libraries
--by Gayle World, Wisconsin State Journal, syndicated from host.madison.com, Aug 12, 2011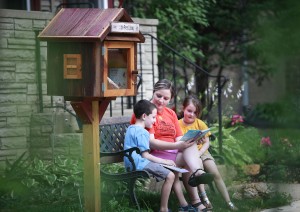 JOHN HART — State Journal Meghan Blake-Horst and her children, Dylan, left, and Harper read a book found in the Little Library in their front yard on Few Street. Blake-Horst also sponsored a Little Library on the bike path near her East Side business, Absolutely Art.
Bigger than a breadbox, homier than a newspaper box and more surprising than a bookmobile, the
Little Library
is popping up all over town.
On bike paths. Outside coffee shops. In the front yards of private homes.
"They're sprouting up all over," said Meghan Blake-Horst, owner of Absolutely Art, who installed a Little Library on the bike path behind her gallery on Atwood Avenue and another one outside her home near Orton Park.
Stocked with books ranging from academic texts to children's classics, music instruction and gardening magazines, each two-by-two-foot Little Library bears the same simple message: "Take a book. Leave a book."
"We had new books in there within the first five hours of having it in our front yard," Blake-Horst said. "Sometimes people take a book, sometimes they don't. Someone drew a beautiful mural in chalk on our front sidewalk to say thank you. It's a continual conversation piece."
The brainchild of Rick Brooks of Madison and Todd Bol of Hudson, the Little Library has found a home in more than 20 spots in the Madison area since last summer and is spreading to communities in states from Minnesota to New York. In an era of laptop screens and eBooks, happening upon a Little Library can have its own special magic.
Essentially a tiny house on a post, the Little Library is still such a novelty that its mere presence can stop traffic. Walkers and runners stop in their tracks to gawk, peek inside and examine the box with curiosity and disbelief.
"I wish I had a video of it. Everybody does the same thing," said Tami Topper Schroeder, who helped get a Little Library installed outside Tuvalu Coffeehouse & Gallery in Verona, facing the bike path for passersby.
"It's open all the time," she said. "You're walking by, taking a late-night stroll and it's right there."
A 'warm, fuzzy feeling about it'
When they first hatched the idea for the Little Library — along with the goal to create more of them around the world than Andrew Carnegie did public libraries — Brooks and Bol thought of giving the box a witty name like "Habitat for the Humanities." Or "House of Stories."
But the name that stuck was Little Library.
"A lot of people are not readers. Or they read Facebook and not books. With the Little Library, what seems to catch them is that the box is — cute," Brooks said. "And the idea that you can have something free is nice. They get a warm, fuzzy feeling about it."
The project was inspired in part by tales of Lutie Stearns (1866-1943), who traveled the back roads of Wisconsin to lend books in the early 20th century. With Little Libraries, the goal is not only to boost literacy and reading, but to build community.
The Little Library in the Crestwood neighborhood, for example, has become a gathering place for children. Goodman Community Center will install a box soon, and the Madison company TeachingBooks.net plans to fund one on the city's South Side. Local authors are participating by donating copies of their recently published work.
Grants from MSCR, Willy Street Co-op and the parent-teacher group at Glendale Elementary helped pay for a Little Free Library installed in the Glendale school garden just before school let out in June.
"There wasn't as much advertisement as we would have liked in the beginning, so I wasn't expecting a lot of turnover in the books. But I've been surprised how quickly the books came and went," said Max Lubarsky, an Americorps volunteer at Glendale who created the garden with Joe Muellenberg of UW-Extension.
Lubarsky stocked the Glendale box with critter-themed children's books by author Eric Carle, which were quickly taken and replaced with other children's chapter books, books in Spanish and how-to books on gardening.
"Each library seems to be unique in where it is and how it's built and what kind of books are in there," Lubarsky said. "At Glendale, it's really part of the garden, part of this healthy-self idea we're trying to promote."
Buy one, or design your own
Those who want to sponsor a Little Library can handcraft their own, or buy one made and ready for decorating on the Little Library website, littlefreelibrary.org, or at Absolutely Art. Each structure receives an official seal and number, and is overseen by a "steward," a volunteer who keeps the library tidy and presentable for children and adults.
"We want positive books that are appropriate to the community that's using it," Brooks said. "Sometimes people have a tendency to promote a cause. But we don't want people to think a Little Library is pro- this or anti-this."
The boxes are generally made from recycled materials with a Plexiglas door and a weather-worthy design that can withstand rain and snow. Eventually, Brooks hopes the location of each Little Library can be identified online via GPS, and also have its own Facebook page.
A Little Library costs upward of $350 for all of the technical support and installation — and part of the fee goes to support library projects in developing countries. It's all part of a "pay-it-forward" idea, said Brooks, outreach program manager in the division of continuing studies at UW-Madison and a co-founder of Dane Buy Local.
"We don't want to be in the we're-selling-a-box-for-books business," he said. "We want to be helping people give a library to their neighborhood. That's the spirit of it."
He'd like to see Little Libraries in spots that lend themselves to literary themes, such as along a walking trail (imagine stumbling upon a copy of Aldo Leopold's "A Sand County Almanac" while on a quiet hike) or even in dog parks (Jack London's "White Fang" to books on dog care). Each day on the way to work, Brooks makes a quick check of the Little Library outside Indie Coffee at 1225 Regent St.
"It withstood the winter and has become the busiest one we know," he said. "In the last six months, somewhere between 600 and 800 books have come and gone. We put some quite intellectual and rather eccentric books in there. And they all go."
---
This story was originally published by Wisconsin State Journal. It is reprinted here with permission.
Print
Loved This? Pass It On!
Quote Bulletin

"The greatest use of life is to spend it for something that will outlast it."
William James
Search by keyword: Happiness, Wisdom, Work, Science, Technology, Meditation, Joy, Love, Success, Education, Relationships, Life
Contribute To
Upcoming Stories